Welcome to the O'Carroll Kin site. I am in the ongoing process of laying out our family lines and generations across the globe. If you have other lines pertaining to any listed here, please feel free to share them, as this is an ongoing project for our our posterity.
The Song of Carroll's Sword
Hail, sword of Carroll!
Oft has thou been in the great woof of war,
Oft giving battle, beheading high princes.

Oft has thou gone a-raiding in the hands of kings of high judgments'
Oft has thou divided the spoil with a good king worthy of thee.

Oft where men of Leinster were hast thou been in a white hand,
Oft has thou been among kings, oft among great bands.

Many were there kings that wielded thee in fight,
Many a shield hast thou cleft in battle,
many a head and chest, many a fair skin.

Forty years without sorrow Enna of the noble hosts had thee,
Never was thou in a straight, but in the hands of a very fierce king.

Enna gave thee-'twas no niggardly gift- to his own son, to Dunling,
For thirty years in his possession, at last thou broughtest ruin on him.

Many a king upon a noble steed possessed
thee unto Dermot the kingly, the fierce:
Sixteen years was the time Dermot had thee.

At the feast of Alenn, Dermot the hardy-born bestowed thee,
Dermot, the noble king, gave thee to the man of Mairg, to Murigan.

Forty years stoutly thou wast in the hand of Alenn's high-king
With Murigan of mighty deeds thou never was a year without battle.

In Wexford Murigan, the king of Vikings, gave thee to Carroll:
While he was upon the yellow earth, Carroll gave thee to none.

Thy bright point was a crimson point in the battle of Odva of the foreigners,
When thou leftest Aed Finnlaith on his back in the battle of Odva of the noble routs.

Crimson was thy edge, it was seen at Belach Moon thou wast proved,
In the valorous battle of Alvy's plain throughout which the fighting raged.

Before thee the goodly host broke on a Thursday at Doon Ochtair,
When Aed the fierce and brilliant fell upon the hillside above Leafin.

Before thee the host broke on the day when Cealleadh was slain,
Flannagan's son, with numbers of troops, in high lofty great Tara.

Before thee they ebbed southward
in the battle of the Boyne of the rough feats,
When Cnogva fell, that lance of valor, at seeing thee, for dread of thee.

Thou wast furious, thou wast not weak, heroic was thy swift force,
When Aillil Frosach of Fal fell in front of the onset.

Thou never had a day of defeat with Carroll
of the beautiful garths (cattle enclosures),
He swore no lying oath, he went not against his word.

Thou never hadst a day of sorrow, many a night thou hadst abroad;
Thou hadst awaiting thee many a king with many a battle.

O sword of the kings of mighty fires, do not fear to be astray!
Thou shalt find thy man of craft, a lord worthy of thee.

Who shall henceforth possess thee, or to whom wilt thou deal ruin?
From the day that Carroll departed, with whom wilt thou be bedded?

Thou shalt not be neglected until thou come to the house of glorious Naas:
Where Fionn (mac Cumhaill) of the feasts is, they will hail thee with 'welcome'."
The above poem was translated by Kuno Meyer and can be found in "1000 Years of Irish Poetry", ed. by Kathleen Hoagland.

Each page will list family lines and the info we have for them. If there are missing birthdates or deaths and you know them please don't hestitate to contact me. These lines will go forth in the establishment of the Carroll Historical Society formed by me in 2005. It is for all of us, that we keep these historical memories and truths. Any stories from Abroad involving our lines are welcome as well as family history stories for our generations now living.
If you are visiting, be sure and sign our guestbook, and let us know your relationship to our lines.

Charles Carroll of Carrollton standing admist other signers of the Declaration, he is in the Gold Coat tails with his hands behind his back 3rd from left in picture. Other kin to us are: Richard Henry Lee, cousin to Charles, in identical dress with back to us at far right, John Hancock,in the light gray forefront facing out.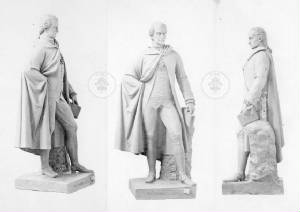 Charles Carroll's Address
on the Declaration of Independence
"Grateful to almighty God for the blessing which, through Jesus Christ our Lord, he has conferred upon my beloved country, in her emancipation, and upon myself, in permitting me, under circumstances of mercy, to live to the age of 89 years and to survive the fiftieth year of American Independence and certifying by my present signiture my approbation of the Declaration of Independence adopted by Congress on the fourth day of July, in the year of our Lord, one thousand seven hundred and seventy six, which I originally subscribed on the second day of August of the same year, and of which I am now the last surviving signor -




I do hereby recommend to the present and future generations the principles of that important document as the best earthly inheritance their ancestors could bequeath to them, and pray that the civil and religious liberties they have secured to my country may be perpetuated to the remotest posterity and extended tothe whole family of man."




Charles Carroll, of Carrollton

Baltimore, August 2, 1826